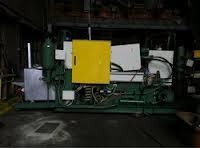 Used Die Casting Machine
Product Description
Used Die Casting Machines
We are a service orientated company that is dedicated to help you find the right machine for your application and budget.
We buy and sell all types of equipment used in the die casting industry including: cold chamber aluminum die casting machines, hot chamber pressure die casting machines, trim presses, furnaces and automation equipment.
We regularly have in stock die casting equipment from Buhler,Idra, Italpresse, Frech, Weingarten, Wotan, Colosio, Cannon TCS, NTP Agrati, Urpe and Triulzi,Toshiba, Ube, Toyo, BSK, KDK, Producer, LK and Zitai machines, HPM, Prince, BuhlerPrince, Lester, B&T, THT, National, Birch, Kux Wickes and Clevelanddiecasting machines, Techmire, Dynacast, Triad and Fishercast.
Contact Us
Plot no-100, Sector-6, IMT Manesar, Gurugram, Haryana, 110020, India